Anderson Park brings the resort into living space
Investor Anderson Park spends more than 70% of the area to develop green areas, creating life like at resort resorts.
Standard resort living space
Today's travel not only stops at the level of enjoying the space, experiencing the service, but also taking advantage of the time to spend the whole family together. According to the survey results "Family travel trends 2018" conducted by YouGov (a company that analyzes data and market research based on international Internet systems), 68% of families expect each trip home. will have the opportunity to get together together, the next 66% is the need to relax in the peaceful space of the resort.
Thus, if you take into account the time spent together and relax, everyday life will account for the most proportion without having to wait for the opportunity to travel. Grasping the psychological trend of users, real estate developers have launched a "home like resort" product model. A house built like a resort, where every day members can relax, begins to flourish from here.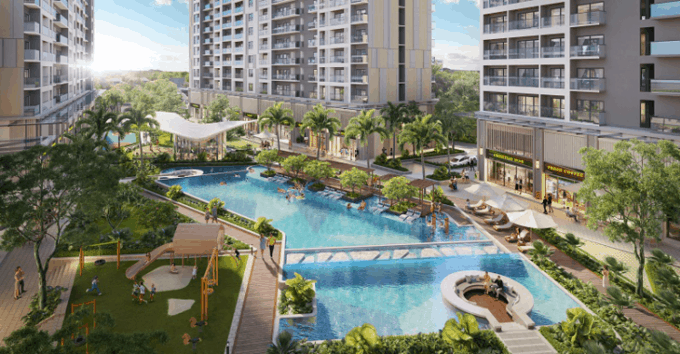 Green space and resort standard facilities at the Anderson Park project
Ahead of this trend, Lyn Property develops the Anderson Park project in Thuan An, Binh Duong. "With Anderson Park, we have more than 70% of the area for green development, not different from resorts. Besides, there is a complex of internal utilities and services to meet the living and relaxation needs of residents. When completed, this can be seen as the first resort apartment project in Thuan An City, Binh Duong ", said Ms. Ha Thi Thu Thuy – representative of Lyn Property.
With more than 16,500 square meters of area for greenery development, Anderson Park creates a relaxing, relaxing living space for residents. The green living space in Anderson Park is built on smart planning, combining green trees – multi-storey vegetation, multi-species in the chain of parks, walking paths and 3-storey swimming pool system, waterfalls. water landscape in the project.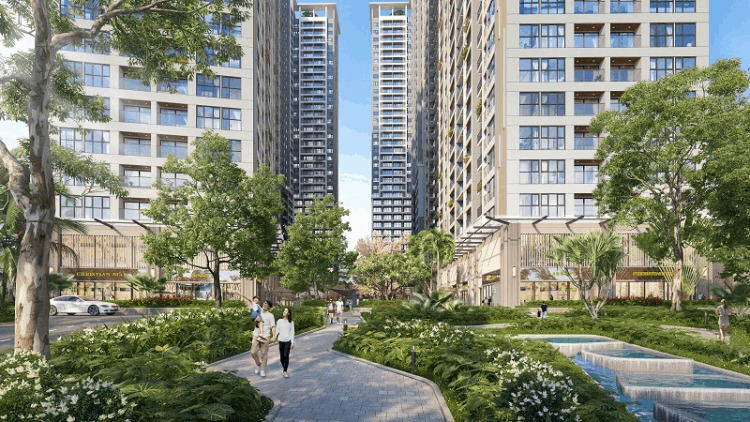 The green-covered jogging track at the project.
The whole project has up to 3 large and small parks and dozens of tree-lined walking paths. The whole family can go for a walk to chat, exercise lightly, or enjoy peaceful moments together on weekends.
Resort space, many trees in Anderson Park are also beneficial for children. A new study published in the journal Plos Medicine found that children growing up in a green living space had a higher IQ. Specifically, the average IQ score is 105, but scientists found that 4% of children with IQ below 80 grew up in places with low greenery. Children living in greener spaces do not have an IQ below 80.
"Doing business means making a profit, but making profits in Andeson Park we create through a trendy direction," said Lyn Property representative, project developer.
Enjoy the convenience, 5-star service
Not only green space, residents of Anderson Park also enjoy 5-star resort services. According to the representative of the design unit, the green space, services and facilities are designed based on modern elements, open to nature and maximum functions and utilities.
In the heart of the project is a bustling chain of shophouse, diverse services such as shopping, dining, entertainment … All the most necessary needs will meet at the doorstep. The shopping area is also connected with an outdoor stage that is modernly invested, creating an open area for performances, partying on special occasions such as Christmas, New Year, and Mid-Autumn Festival. , festival…
Anderson Park apartments are designed according to Suite room standards in 5-star hotels and resorts.
Contact hotline: 1900 3102.
Residents of Anderson Park also easily enjoy other amenities such as 3-storey overflow swimming pool, spa, badminton court, basketball court and multi-purpose sports area. Family camping and BBQ areas serve the relaxation needs of modern residents. Children have a play area, outdoor activity and skills development indoors.
Another special feature at Anderson Park that meets the resort standards is also the arrangement of an elevator lounge system separate from the floors, spacious and luxurious welcoming areas and residents. The apartments are designed according to Suite room standards – the most luxurious room class in 5-star hotels and resorts. According to this design, each functional space, interior or equipment, materials are all high-end.
Operator Anderson Park is Tokyu PM – one of the famous international standard apartment operation management units in Japan, with 100 years of experience with about 830,000 apartments, 1,500 buildings and commercial centers. Tokyu will be in charge of the entire management and operation process of Anderson Park. All matters from security, maintenance, cleaning, and operations are set up and operated according to strict Japanese standards.
30% payment received
Currently, the 2 bedroom apartment in the project is priced at about VND 2.4 billion. Vietcombank will support loans up to 70% of the value of the apartment for up to 20 years. With this method, at first, customers only pay 30% of the value of the apartment (divided into 3 installments). Next, the bank will disburse the loan directly to the investor.
Buyers only start to pay this loan after receiving the house with the rate of 15-18 million per month, interest subsidy before maturity. In addition, according to Lyn Property, customers also enjoy the total preferential rate up to 20%.
The project was licensed to sell future apartments in Block D. Before that, Anderson Park also owned a land use right certificate; detailed planning of 1/500 scale and construction permit. In addition, Vietcombank has also issued a certificate of guarantee for the handover of the apartment for contracts to buy and sell apartments to be formed in the future under the project.
Customers wishing to learn about the project, please contact the hotline: 1900 3102